Join us in our
2019-2020 SEASON
Mozart: Requiem
Saturday, October 26, 2019 at 8 PM
Jim Rouse Theatre, Columbia, MD
Handel: Messiah
Sunday, Dec. 8, 2019 at 7:30 PM
Jim Rouse Theatre, Columbia, MD
A Christmas Noël
with the CPC Chamber Singers
Sunday, Dec. 15, 2019 at 3 PM
Christ Episcopal Church
Columbia, MD
"Celebrating
Women Composers"
Sunday, March 8, 2020 at 4 pm
100 Years of Women's Suffrage
First Evangelical Lutheran Church Ellicott City, MD

"Music Traditions Along
the Danube"
Saturday, May 2, 2020 at 8 PM
Classical and Folk Music
and Folk Dancers
Jim Rouse Theatre, Columbia, MD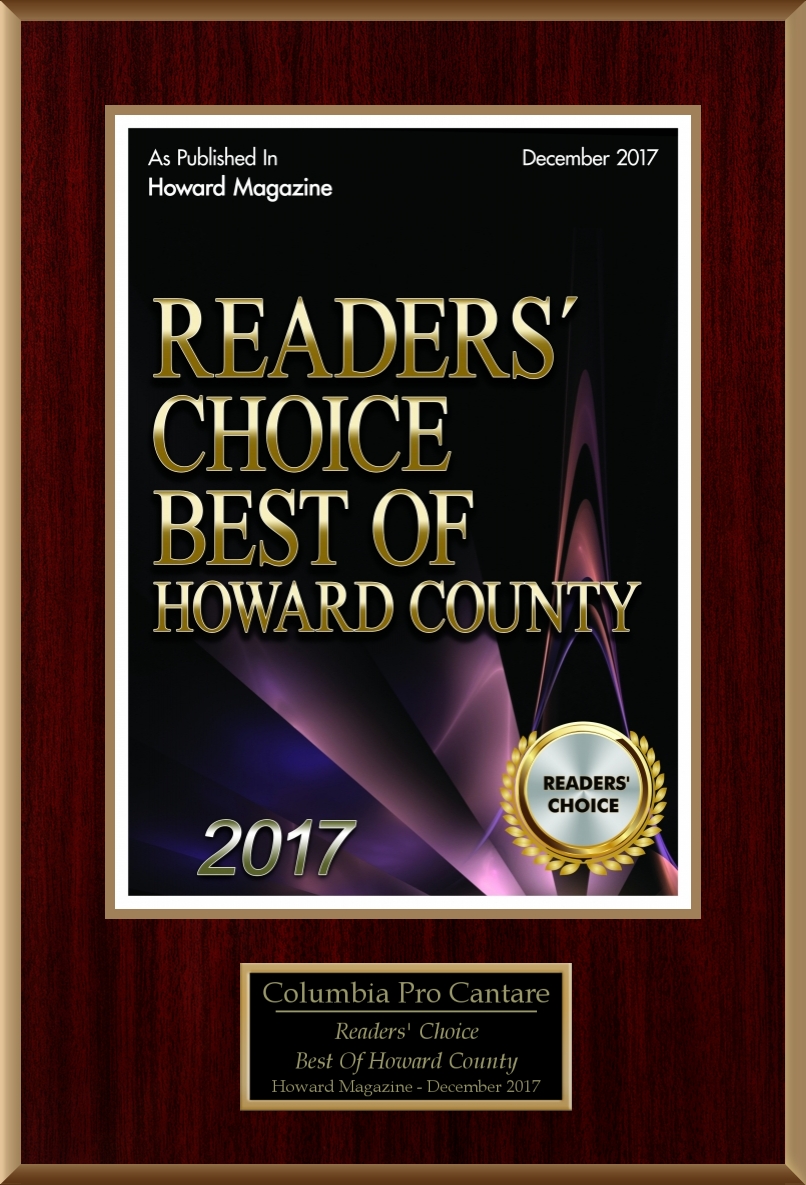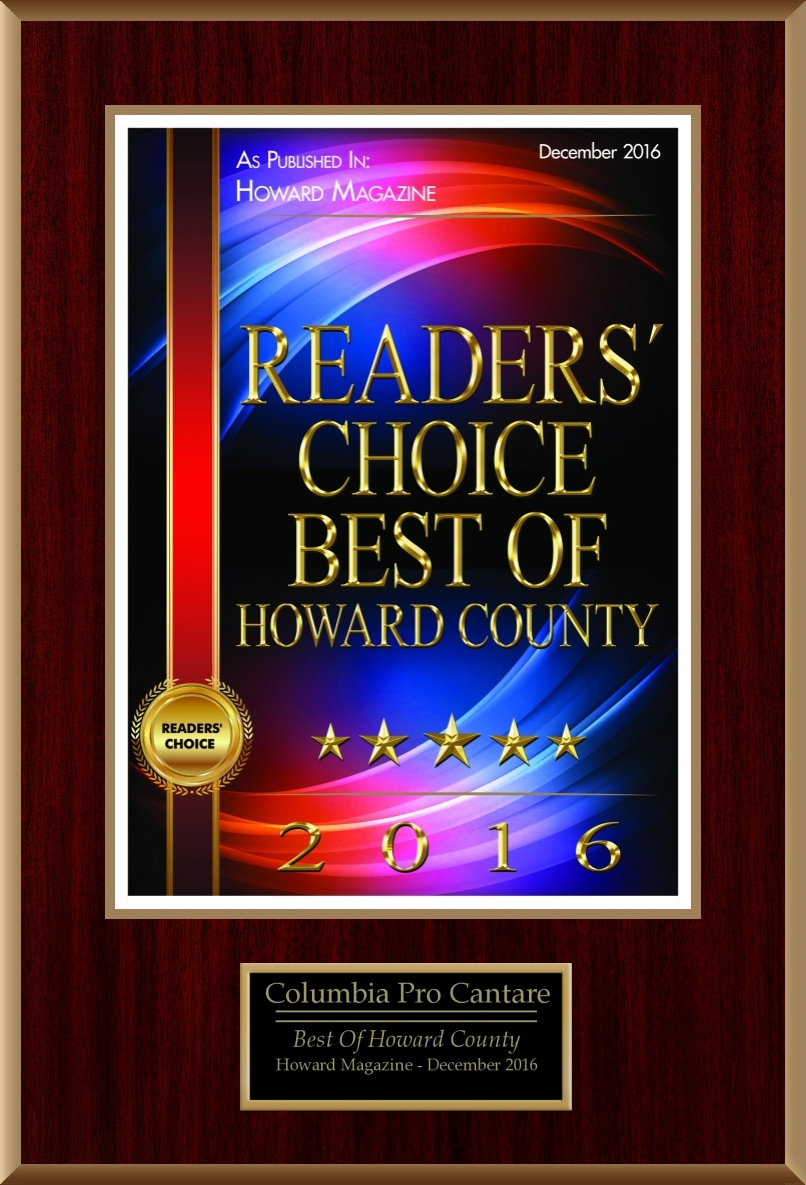 ---
For free Senior Events Shuttle,
call 410-715-3087
---
Columbia Pro Cantare
Studio 17
8510 High Ridge Rd
Ellicott City, MD 21043
410.696.2888
Fax: 410.696.2591
Support the Columbia Pro Cantare
There are some myths we want to dispel:
You may wonder why we are asking for money again, and maybe you have even asked yourself some of these questions:
Myth: "People buy tickets - that covers expenses, right?"
Fact: Even with full houses, ticket revenue covers less than 20% of expenses.
Myth: "Wealthy donors take care of contributions – my thirty-seven bucks can't make that much difference."
Fact: In fact, over half of our donors give $100 or less. And this season most of the singers in our Chorus have made a contribution.
Myth: "Choral singing?? Shouldn't I send my charitable dollars to third world countries?"
Fact: Well, that's not a bad idea, but choruses improve communities in a few remarkable ways.
Compared to non-singers, adult choristers are more frequent voters, volunteers, and civic leaders, and are much more likely to contribute to philanthropic causes. So in a way, a contribution to a chorus might eventually make an even greater impact on that third world country (not to mention your own community)!
All our thanks,

The 130+ Singers, Staff, and Board of Columbia Pro Cantare
In 2002, an Endowment Fund was established under the management of the Columbia Foundation. Contributions to the endowment fund ensure the long term stability of the Pro Cantare and allow it to concentrate on its mission of providing enriching musical experiences to both singers and to our audience.
Gifts to the Annual and Endowment Funds are typically acknowledged for one year in all of Pro Cantare's concert programs. For your convenience, donations may be made through your PayPal account or credit card by using the "Donate to Columbia Pro Cantare" button below:
Alternatively, if you wish to use a check, a Donation Form is available. Individual contribution levels to the Annual Fund are:
| | | |
| --- | --- | --- |
| Benefactor | $1000 or more | For further information, please contact our Executive Director: |
| Lyricist | $600-$999 | Elladean Brigham |
| Patron | $300-$599 | Columbia Pro Cantare |
| Friend | $100-$299 | Studio 17 |
| Associate | $25-$99 | 8510 High Ridge Rd |
| | | Ellicott City, MD 21043 |
| | | e-mail: chorus@procantare.org |
Thank you for your support!
The Columbia Pro Cantare is a 501(c)(3) not-for-profit arts organization. All donations are tax deductible. Checks should be made to "Columbia Pro Cantare" or "CPC."
Gifts of cash or appreciated stock, made by mail, credit card or wire transfer, are gratefully accepted. Please inquire if your employer makes matching gifts to non-profits.
Columbia Pro Cantare is a non-profit organization. Concerts are partially funded by grants from the Maryland State Arts Council, an agency funded by the State of Maryland and the National Endowment for the Arts; Howard County Arts Council through a grant from Howard County Government; Community Foundation of Howard County: The Holmes Foundation; and the Rouse Company Foundation