Join us in our
2019-2020 SEASON
Mozart: Requiem
Saturday, October 26, 2019 at 8 PM
Jim Rouse Theatre, Columbia, MD
Handel: Messiah
Sunday, Dec. 8, 2019 at 7:30 PM
Jim Rouse Theatre, Columbia, MD
A Christmas Noël
with the CPC Chamber Singers
Sunday, Dec. 15, 2019 at 3 PM
Christ Episcopal Church
Columbia, MD
"Celebrating
Women Composers"
Sunday, March 8, 2020 at 4 pm
100 Years of Women's Suffrage
First Evangelical Lutheran Church Ellicott City, MD

"Music Traditions Along
the Danube"
Saturday, May 2, 2020 at 8 PM
Classical and Folk Music
and Folk Dancers
Jim Rouse Theatre, Columbia, MD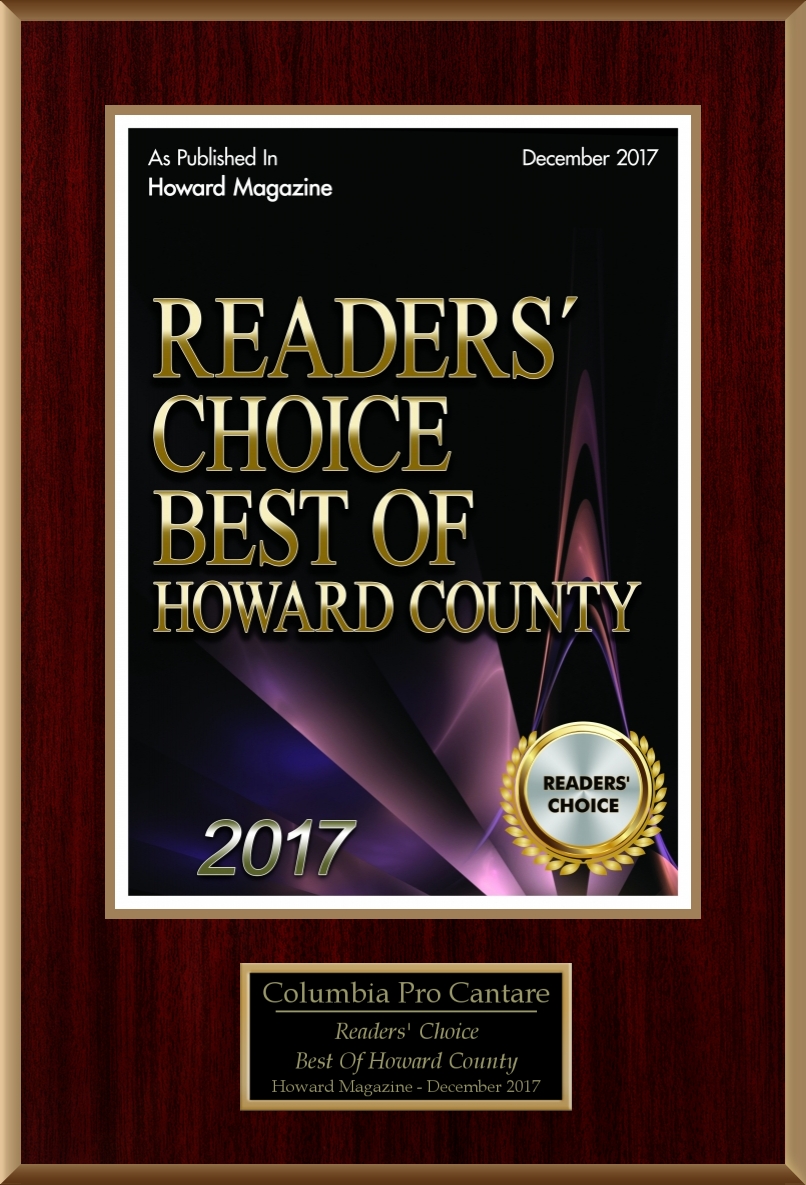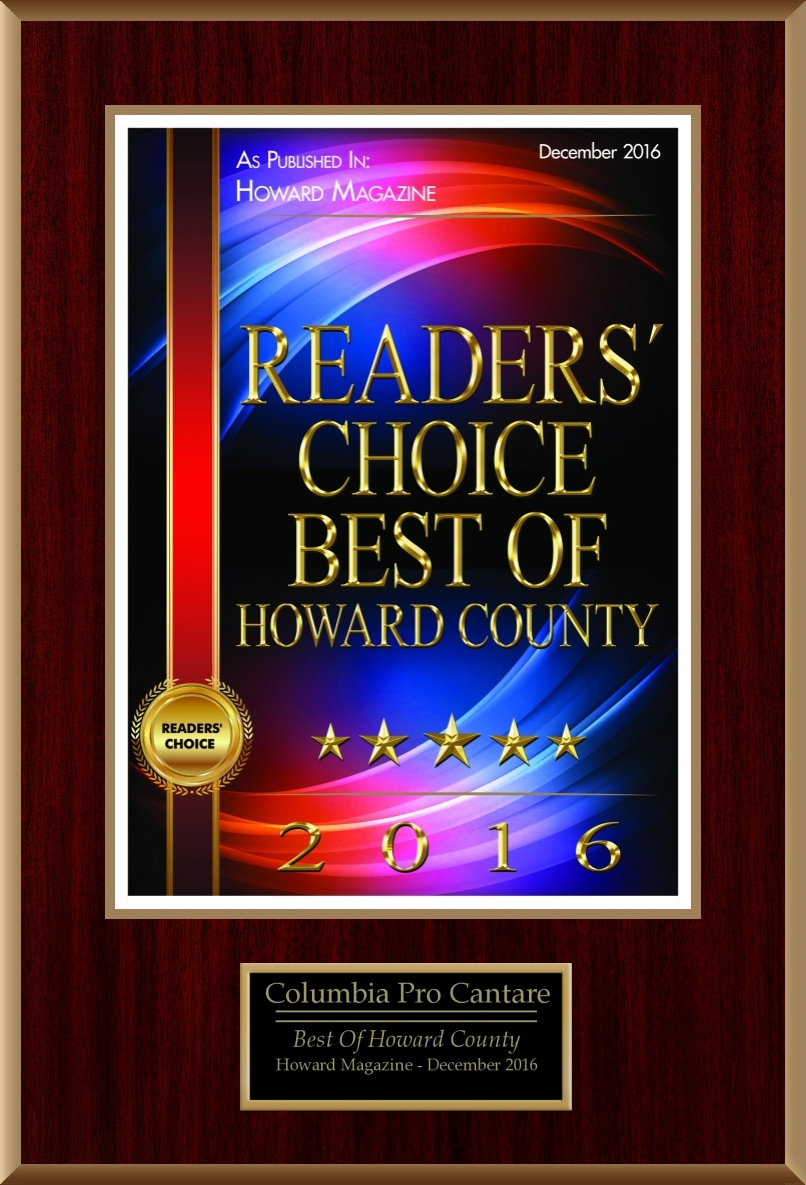 ---
For free Senior Events Shuttle,
call 410-715-3087
---
Columbia Pro Cantare
Studio 17
8510 High Ridge Rd
Ellicott City, MD 21043
410.696.2888
Fax: 410.696.2591
This season's guest artists: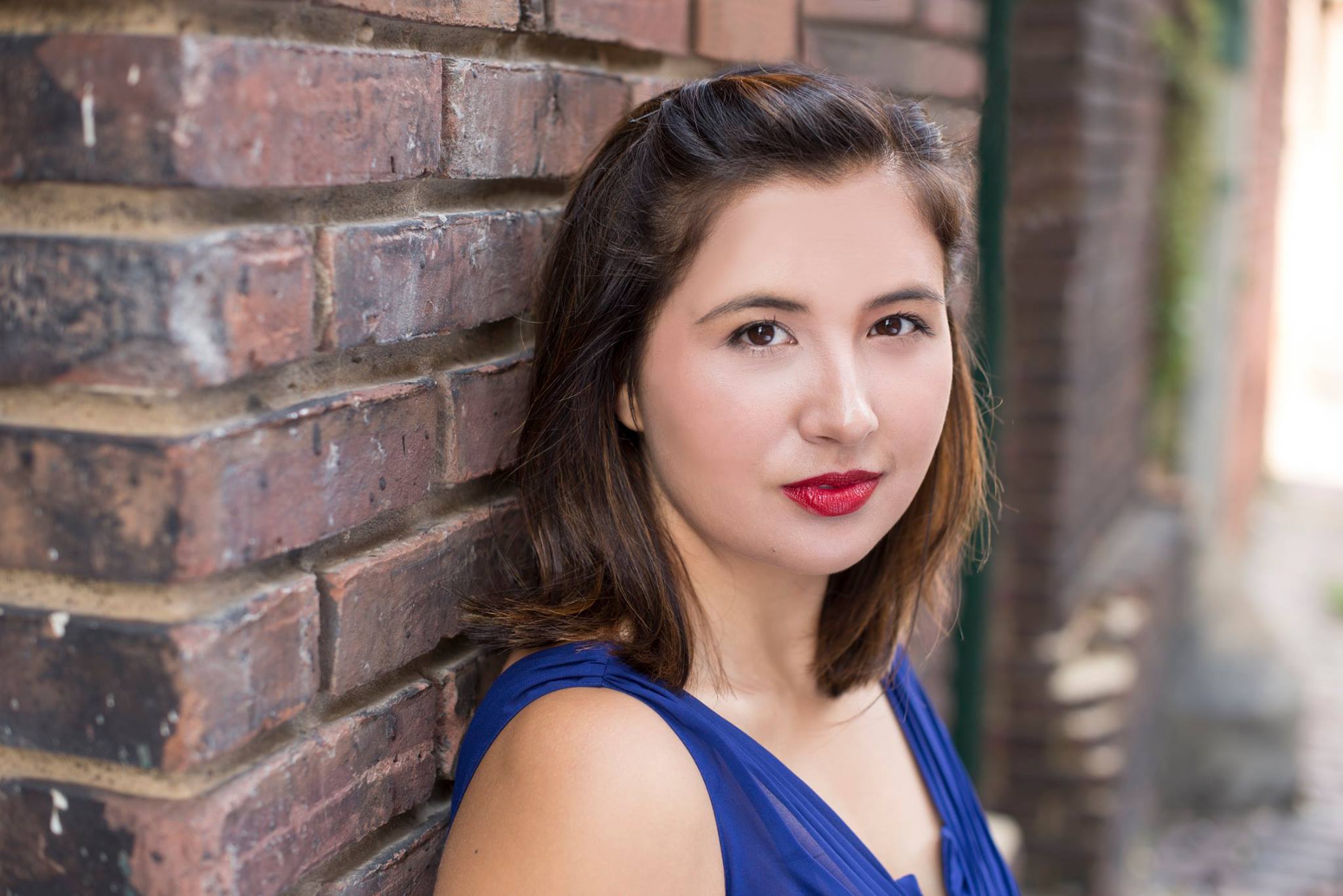 French-American soprano, Sarah Hayashi, is currently pursuing a Master in Advanced Vocal studies at the Wales International Academy of Voice in Cardiff under the tutelage of Dennis O'Neill and Nuccia Focile. In 2016, she graduated with a Master of Vocal Performance at the Royal College of Music in London, studying with Janis Kelly. She is generously supported by a Charles Branchini Award and the Josephine Baker Trust. In 2013, Sarah graduated from the Peabody Institute of the Johns Hopkins University in Baltimore after completing her four-year studies receiving both a Bachelor and Master of Music degrees in Vocal Performance. She studied with Phyllis Bryn-Julson and Stanley Cornett.
Her operatic roles while at the Peabody Institute include Fire, Princess and the Nightingale in L'enfant et les Sortilèges (Ravel), Miss Ellen in Lakmé (Delibes), and Miranda in a world premiere of Douglas Buchanan's Ariel's Tempest. She has also performed the roles of Belinda in Dido and Aeneas (Purcell, Little Patuxent Opera Institute), Euridice in Orphée aux Enfers (Offenbach, Bel Cantanti Summer Institute, and Bearwood Opera), and Despina in Cosi fan tutte (Mozart, Seastar Opera). This past season, she sang the roles of Erste Knabe in Die Zauberflöte (Mozart, Royal College of Music International Opera School (RCMIOS)), Emmie in Albert Herring (Britten, RCMIOS), and was also part of the eight-strong chorus in Handel's Giove in Argo, a collaboration with the RCMIOS and the London Handel Festival.
She has also performed the roles of Susanna in Le Nozze di Figaro, Naiade in Ariadne auf Naxos, Dew Fairy in Hänsel und Gretel, Marie in La fille du Régiment, and Rosina in Il Barbiere di Siviglia in opera scenes performances.
She is currently covering the role of Olympia in Offenbach's Tales of Hoffmann for English Touring Opera. Some oratorio works include Mass in E-flat (Schubert, Peabody Institute), Missa Brevis (Kodàly, Peabody Institute) and Missa Brevis in G (Haydn, St. Lawrence, West Wycombe). She has also enjoyed singing in the chorus for Gloria (Vivaldi, Peabody Institute), Lord Nelson Mass (Haydn, Peabody Institute), Requiem (Mozart, Peabody Institute), Carmina Burana (Orff, Baltimore Lyric Opera) Charpentier's Te Deum (St. David Hall, Cardiff) and Mozart's Mass in C minor (St. David Hall, Cardiff).
Sarah has performed in public concerts and recitals in Baltimore, Los Angeles, Nice (France), Graz (Austria), and London. She has participated in public masterclasses with Elizabeth Watts, Barbara Bonney, Denyce Graves, Richard Jackson, Dalton Baldwin, Martin Katz, Margeaux Garret, and Roger Vignoles.
In 2008, Sarah won the Maryland Distinguished Scholar in the Arts Award. She is also the recipient of the 2012 Evergreen House Foundation Scholarship. She was inducted into the Pi Kappa Lamda Music Honor Society in 2013. Sarah was recently a winner of the Royal College of Music's Spring Concerto Competition and a finalist of the London Handel Festival's Singing Competition, receiving the Selma D. and Leon Fishbach Prize. She will be performing several concerts throughout the next season as a result of both competitions.
In 2014, Sarah soprano Lisa Kiriaty, Baroque cellist Angela Lobato, and harpsichordist Thomas Allery, created the Baroque chamber group Chaconne Ensemble. They performed concerts of soprano duets and solos for audiences in London. They have also recently won the Royal College of Music Early Music Competition, receiving the Century Fund and Richard III Prize. Future engagements include a concert in London's Handel and Hendrix House in November.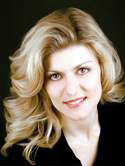 Praised by the Washington Post as a "lovely singer and accomplished actress" with "limpid tone and agile high notes," soprano Amy van Roekel has established herself as a vibrant and captivating performer on both the operatic and concert stage. Ms. van Roekel has received accolades for her performances on both the operatic and concert stage. Her operatic appearances include roles with Florida Grand Opera, Lyric Opera Cleveland, Central City Opera and Chautauqua Opera. She also has a passion for new music and has worked extensively with American Opera Projects, based in Brooklyn, and is called on frequently by composers to premiere their new works. As a soloist she has performed with the Virginia Symphony, the Louisiana Philharmonic, the National Symphony Orchestra, the Santa Fe Symphony, the Buffalo Philharmonic, and the Chamber Orchestra of Philadelphia. She has also been a featured artist with the New York City Ballet, performing American standards under the baton of George Steel and his Gotham City Orchestra in St-Rémy, France.
She has been involved in several exciting premieres including Opera After Hours – a compilation of several short operas woven together by acclaimed director, Christopher Alden at New York City's cutting-edge Zipper Factory Theater; the world premiere of Oresteia, - a multi-media opera by Iannis Xenakis performed in ancient Greek at the Miller Theatre in New York City; and The Machine Awakes, composed by Stephen Andrew Taylor specifically for Ms. van Roekel with a commission by Sinfonia da Camera at the University of Illinois. The Machine Awakes was released on CD in the fall of 2009 on Albany Records. Amy has received many awards and honors that include being a 1st Place winner of the National Symphony Orchestra's Concerto Competition, a Regional Finalist in the Metropolitan Opera National Council Auditions, and a two-time award winner in the Washington International Competition for Singers. Also an accomplished pianist, Amy van Roekel holds degrees from the University of Michigan and the University of Maryland. Her website is: http://www.amyvanroekel.com.
Leah Kaye Serr, Mezzo-Soprano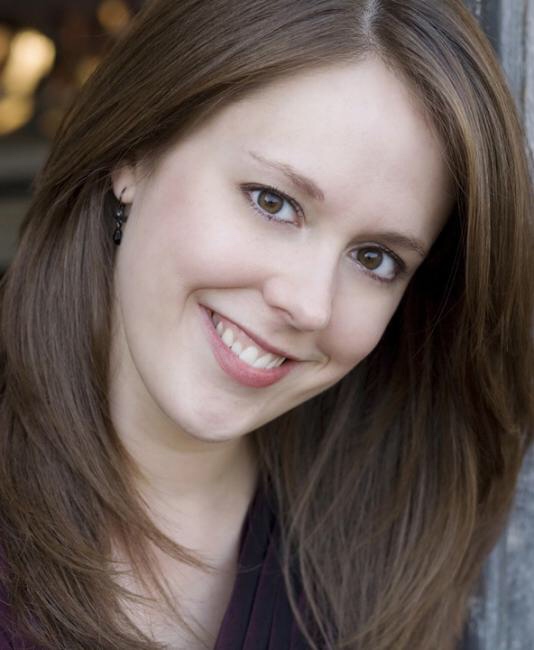 Mezzo-soprano, Leah Kaye Serr, is establishing herself as a singer and actress of "strength and lyrical beauty." Ms. Serr has performed with Sarasota Opera, Des Moines Metro Opera, Knoxville Opera and Central City Opera where she performed the role of Annina in La Traviata and covered the role of Dorothée in Cendrillon. She also had the privilege of participating in the Châteauville Foundation Residency Program for young artists, where she covered the role of Lucretia in The Rape of Lucretia conducted by Maestro Lorin Maazel.
As an Apprentice Artist with the Sarasota Opera Company, Ms. Serr performed the role of Mercy Lewis in The Crucible, covered the role of Suzuki in Madama Butterfly, and had the privilege of singing Giovanna in their mainstage production of Rigoletto. She was also selected as the recipient of the prestigious Sarasota Opera Guild Award. Furthering her career, Ms. Serr won 3rd place in The American Prize National Competition for Vocal Performance in the College and University Art Song Division and won the Middle/East TN District Metropolitan Opera Competition where she was chosen to advance to the Mid-South Region competition in Memphis, TN.
Ms. Serr sang Emma Jones in Street Scene, Donna Elvira in Don Giovanni, Elizabeth Proctor in The Crucible, and Zita in Gianni Schicchi with the University of Tennessee Opera Theatre, where she completed her Master's Degree under the vocal direction of renowned mezzo-soprano Lorraine DiSimone. Ms. Serr also performed the mainstage roles of Giovanna in Rigoletto and Kate in The Pirates of Penzance as a member of the Knoxville Opera Studio program. Professionally, she performed Hansel in Knoxville Opera's outreach production of Hansel and Gretel as well as performing the mainstage roles of the Muse and Nicklausse in Les contes d'Hoffmann where she was acclaimed as bringing "...a stylish persona and a powerful mezzo to the dual roles".
As an undergraduate student at The Peabody Conservatory of Johns Hopkins University, Ms. Serr studied under the direction of Dr. Stanley Cornett. While at Peabody Ms. Serr performed the roles of Meg Page in Falstaff, Miss Jessel in The Turn of the Screw and Lucretia in The Rape of Lucretia where she was hailed as "lovely and vocally incisive as Lucretia, convincing as she lost her mind after the rape scene."
Among concert work, Ms. Serr has sung the mezzo solos in Dvorak's Stabat Mater, Haydn's Missa in tempore belli, Mozart's Requiem, Beach's Grand Mass in E-flat Maj, Rossini's Petite Messe Solennelle, and is excited to join Columbia Pro Cantare again singing Handel's Messiah.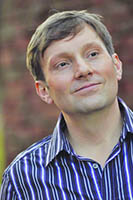 Praised in Opernwelt for his "marvelous timbre, consistent throughout, well focused, excellently agile voice," Charles Reid is being recognized as one of his generation's leading lyric tenors. He has sung on many of the most famous international stages, including nine seasons with New York's Metropolitan Opera, San Francisco Opera, and the festivals of Bayreuth, Salzburg, Spoleto USA, and Glimmerglass. Upcoming events include Mr. Reid's debut with the Radio Symphonie Orchester Vienna, singing the Prince of Florence in Zemlinsky's Eine florentinische Tragödie under the baton of Maestro Bertrand de Billy, and Charles' return to the MET roster where he is responsible for Pylade in Gluck's Iphigénie en Tauride.
Mr. Reid's most recent performances include the roles of Alfredo, Duca di Mantua, Macduff, Nemorino, Cassio, Tamino, and Don Ottavio with the Nationaltheater Mannheim, Deutsche Oper am Rhein (Düsseldorf), Hessisches Staatstheater Wiesbaden, Stadttheater Gießen, and Theather Wintherthur. Beyond the Germanic countries, Mr. Reid has been heard as Tito under the baton of Adam Fischer in Barcelona and Madrid. Additionally, he performed the little known Mozart opera, Ascanio in Alba, in Mexico City. For his Alfredo, renowned critic Gabor Halasz writes, "Charles Reid gave a vocal and musical performance of Alfredo without any limitations or boundaries, with a shimmering tenor voice, flawless technique, extraordinary feeling for style, and very clear intonation."
Equally at home on the concert stage, recent debuts include Boston's Handel and Haydn Society singing Mozart's Requiem under the baton of John Nelson, and the Rochester Philharmonic Orchestra, performing Beethoven's Ninth Symphony. Adding three new works to his repertoire, Charles Reid performed Mendelssohn's Elias, Paulus, and 'Lobgesang
Mr. Reid's recent recordings include Haydn's The Seasons with Amor Artis Baroque Orchestra and a DVD release of Katharina Wagner's Die Meistersinger von Nürnberg with the Bayreuther Festspiele. In addition, Charles can be heard on the Deutsche Grammaphon DVD of Mozart's Ascanio in Alba with the Salzburger Festspiele. Charles is also on Gothic Records singing the tenor solos in Alice Parker's Melodious Accord with the Master Chorale of Washington.
Mr. Reid is the recipient of prestigious awards from the Richard Tucker Music Foundation, Loren L. Zachary National Vocal Competition, Florida Grand Opera YPO Competition, Connecticut Opera Competition, and the Marjorie Lawrence International Vocal Competition.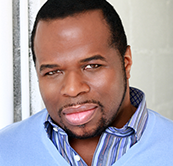 Lester Lynch, an established dramatic baritone, is making his mark in some of the world's leading opera houses. Known for his charismatic portrayals and commanding voice, he is receiving rave reviews as he masters some of the most important baritone roles from Scarpia to Rigoletto to Count di Luna. Opera Today recently enthused, "It was booming baritone Lester Lynch who served notice that he is now in consideration for admittance to the Scarpia Preferred Pantheon - when he needed to pour it on he had the Puccinian fire power and the dramatic heat to raise the hair on the back of your neck." The Cincinnati Enquirer wrote, "Lester Lynch made a superb Macbeth, delivering an authoritative performance with a firm, powerful voice and wonderfully communicating both tragedy and madness."
His most recent performances include Lescaut in Puccini's Manon Lescaut under the baton of Sir Simon Rattle with the Festspielhaus Baden-Baden, Crown in Porgy and Bess with the Opéra de Montréal, as Amonasro in Verdi's Aida with Pittsburgh Opera, as Carbon in Cyrano de Begerac with San Francisco Opera, as Herald in Lohengrin with Lyric Opera of Chicago, as Gérald in Andrea Chénier with the Bregenzer Festspiele, as Nottingham in Roberto Devereaux and Count Di Luna in Il Trovatore with Minnesota Opera. His latest debuts include a back-to-back engagement with the Fundação Calouste Gulbenkian in Portugal where he was featured as Iago in Verdi's Otello and in the title role of Verdi's Falstaff.
Upcoming performances include Nabucco with the Welsh National Opera, Amonasro with the Bergen National Opera in Norway, and Shylock in The Merchant of Venice with the Warsaw National Opera. Upcoming recordings include Iago in Verdi's Otello, Porgy in Gershwin's Porgy and Bess and a Verissimo French Aria CD to be recorded by Pentatone Classics.
Mr. Lynch has worked with some of the world's most renowned conductors and directors. Under the baton of Sir Simon Rattle and the Berlin Philharmonic, he has sung the role of Crown in Gershwin's Porgy and Bess, and the Bauer in Schoenberg's Gurrelieder. He has also appeared with conductors Sir Andrew Davis, Placido Domingo, Larry Foster, Ulf Schirmer, and John DeMain, and performed under eminent directors Sir Richard Eyre, Christopher Alden and Francesca Zambello.
His performance of Crown with San Francisco Opera 's production of Porgy and Bess was recently released on DVD. Pentatone Classics has released his recordings of two operas by the contemporary composer Gordon Getty – the title role in Plumpjack, and Cauchon in Joan and the Bells. Another important release is a recording of Mahler's Symphony No.8 conducted by JoAnn Falletta.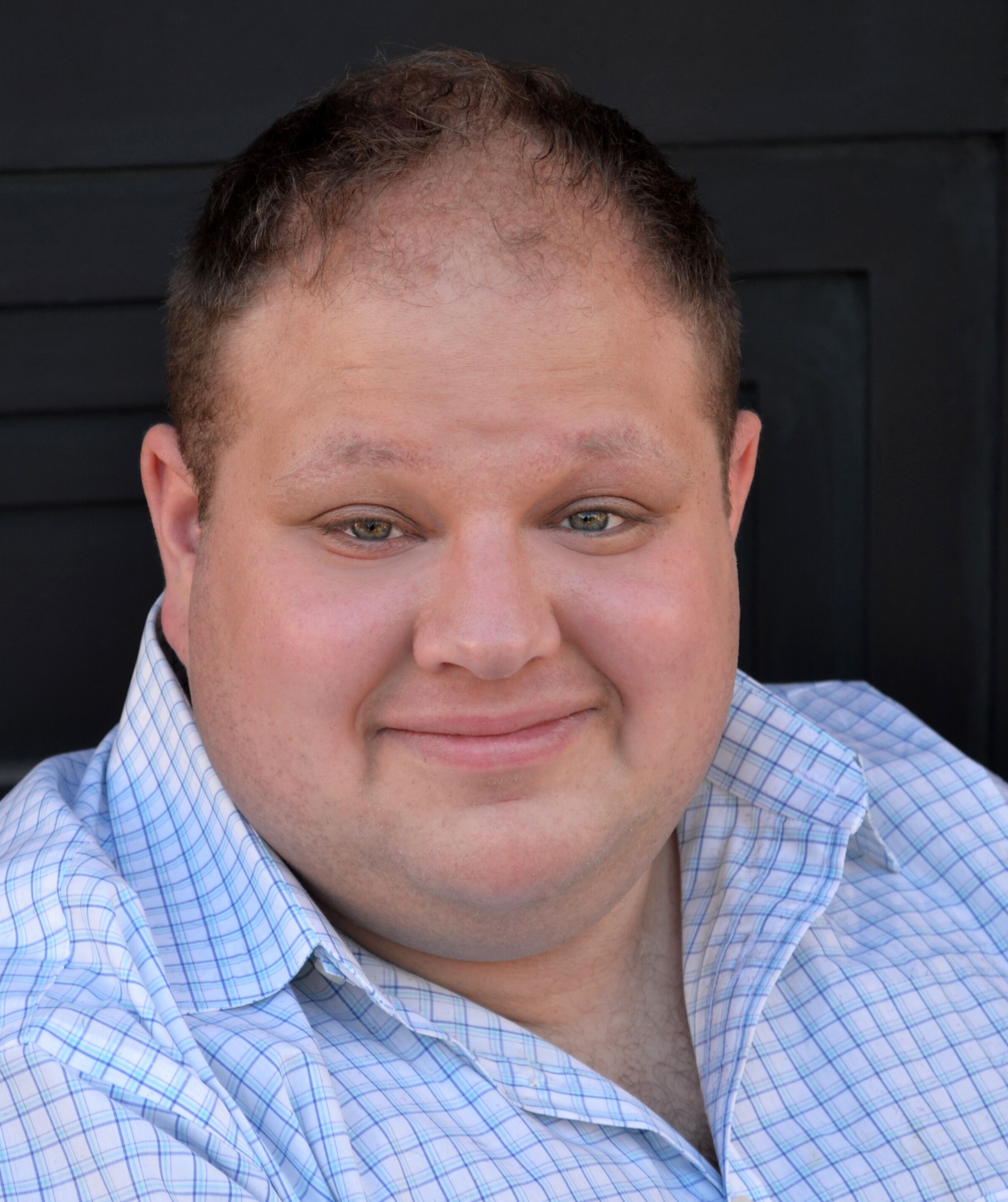 American Tenor Jason Lee Berger is regularly acclaimed for his beautiful lyric tenor voice and as a performer of "extraordinary depth, honesty, and passion." (Delco Times) Possessing a versatile and flexible instrument, Mr. Berger is at home in a wide range of genres including opera, oratorio, art song, and musical theatre. Mr. Berger is a unique performer in that he has the comedic timing and dramatic ability required for the character tenor repertory while also possessing a voice which allows him to sing the light-lyric repertory with vocal aplomb.
After spending the summer of 2018 as an apprentice artist at Charlottesvile Opera performing the role of Cinderella's Father in Into the Woods and covering Don Curzio in Le nozze di Figaro, Mr. Berger has an exciting 2018-2019 season which includes debuts at Opera Delaware and Wilmington Concert Opera. For Jason Berger, the 2017-2018 season has been one of notable milestones and successes. In May of 2018, he graduated from The Peabody Conservatory with a Graduate Performance Diploma in voice where he studied with Dr. Stanley Cornett. Also in May of 2018, he made his debut with the Baltimore Choral Arts Society and the Peabody Youth Symphony Orchestra as the tenor soloist in Beethoven's 9th Symphony. In February of 2018, he had the distinct honor of performing the first song from Jake Heggie's song cycle Friendly Persuasions: Homage to Poulenc in a masterclass for Jake Heggie and the cycle's librettist Gene Scheer. In November of 2017, he made his role debut as Nemorino in Donizetti's L'elisir d'amore. Renowned collaborative pianist and conductor Martin Katz described Berger's performance of the opera's signature aria "Una furtive lagrima" as a "wonderful, wonderful, performance" and a "real-example of bel-canto style."
Other operatic roles that Mr. Berger has performed include Don Basilio, Don Curzio, and Rinuccio. Roles studied include Alfredo, Arturo in Lucia di Lammermoor, Gastone, Idomeneo, Podestà, Tamino, and Tito. He has performed numerous roles in oratorio including the tenor soloist in Mendelssohn's Lobgesang, the tenor soloist in Beethoven's Choral Fantasy, the tenor soloist in J.S. Bach's Cantata 80, and the Pastor in Respighi's Laud to the Nativity.
Mr. Berger has participated in music festivals and summer programs including the Aspen Music Festival and School for two consecutive summers, the Amalfi Coast Music and Arts Festival, and the Berlin Opera Academy. He graduated with his Masters of Music degree from the University of Michigan in 2016 under the tutelage of Stanford Olsen. He completed his Bachelors of Music degree in 2014 at Boston University under the tutelage of Phyllis Hoffman.
Jacqueline Pollauf, Harpist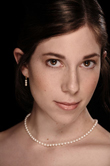 Jacqueline Pollauf, solo harpist, has been praised for playing with "transcendent ability" (The Sybaritic Singer), and a "steady and most satisfying elegance" (The Toledo Blade). Jacqueline frequently creates her own arrangements, and audiences are intrigued and delighted by the variety of sounds and styles to be found in her sensitive playing.
Jacqueline has given solo performances throughout the mid-Atlantic region, including on Vivre Musicale's Se la Musique Series; at the Academy Art Museum of Easton, Maryland; and at the Windup Space in Baltimore. In 2014, Jacqueline was honored with an Individual Artist's Award from the Maryland State Arts Council.
Jacqueline made her solo debut at age sixteen with the Perrysburg Symphony Orchestra (Perrysburg, OH). Recording credits include Music from Three Continents with the Scottish Voices ensemble of Glasgow, Scotland; Howard Hanson: Organ Concerto with the Philadelphia Virtuosi Chamber Orchestra; and a solo recording, Bouquet.
In the world of contemporary classical music, Jacqueline collaborated with saxophonist Noah Getz in the duo Pictures on Silence from 2009-2014. Together they released an album of avant-garde classical music, Voyage, featuring several of their more than twenty commissions. The duo performed at the 2011 World Harp Congress (Vancouver, Canada) and have been recognized with numerous awards and grants, including a Chamber Music America Commissioning Grant, and a Yellow Barn Artist Residency.
Jacqueline has explored a variety of styles of music, including an appearance on the Washington Women in Jazz Festival at Bohemian Caverns, performances with hip hop artists as part of the Baltimore Boom Bap Society, and free improv in the Out of Your Head Collective.
Jacqueline is on the faculties of American University, the Baltimore School for the Arts, Blue Lake Fine Arts Camp, Goucher College, and the University of Maryland, Baltimore County; and is the founder and director of the Baltimore Harp Camp. Jacqueline holds Master and Bachelor of Music degrees from the Peabody Conservatory.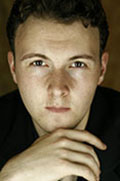 Hailed as an "irresistibly fluid" and "illuminating" pianist by the New York Times and the Cleveland Plain Dealer, Eric Zuber has established himself as one of the leaders of a new generation of American pianism.
During a period of just a few years, Dr. Zuber was a recipient of major prizes from ten of the world's most prestigious international piano competitions including Arthur Rubinstein, Cleveland, Seoul, Sydney, Dublin, Honens, and the Piano-e-Competition. He was also awarded Gold Medals in both the Hilton Head and Boesendorfer International Piano Competitions. For these and many other remarkable achievements, he was given the Arthur Rubinstein Prize by The Juilliard School. Dr. Zuber is also a two-time recipient of the Gina Bachauer Prize at Juilliard—one of only a handful of pianists in the school's history to have won the award twice in two consecutive years.
Dr. Zuber has made solo appearances at the Kennedy Center, Carnegie's Weill Recital Hall, Merkin Hall, the Sydney Opera House, Severance Hall and for the International Keyboard Institute and Festival in New York City. After making his orchestral debut at the age of twelve with the Baltimore Symphony Orchestra, he has gone on to perform with many of the major orchestras in the United States and abroad including Cleveland, Israel, Indianapolis, Minnesota, Phoenix, Sydney, RTE National, and the Royal Philharmonic. His collaborations with internationally acclaimed artists include performances with Lewis Kaplan, Paul Huang, Amir Eldan, Charlie Neidich, Joseph Silverstein, Gerard Schwartz, Johannes Moser, and Amanda Roocroft.
In addition to a busy solo and collaborative career, Dr. Zuber is dedicated to help the next generation of aspiring young artists. He has served as the L. Rexford Whiddon Visiting Chair in Piano at the Schwob School of Music at Columbus State University, and has also held previous faculty appointments at Ball State University, the University of Memphis' Rudi E. Scheidt School of Music, the Peabody Institute, and at the Bowdoin International Music Festival. He is also a frequent guest artist and teacher at various universities in and out of the United States, and has given masterclasses at Oklahoma University, Ohio University, Rutgers, Arizona State University, Bard College, Shenandoah University, and Lawrence University, among others. Internationally he has taught in China at the Bowdoin/Xian International Music Festival, and in Korea for the Korean Steinway Society. This past summer he joined the faculty of Music Fest Perugia in Italy.
Eric holds degrees from the Peabody Institute of the Johns Hopkins University (B.M., A.D., D.M.A.), the Curtis Institute of Music (Diploma), and the Juilliard School (M.M). His major teachers have been Boris Slutsky, Leon Fleisher, Claude Frank, and Robert McDonald.