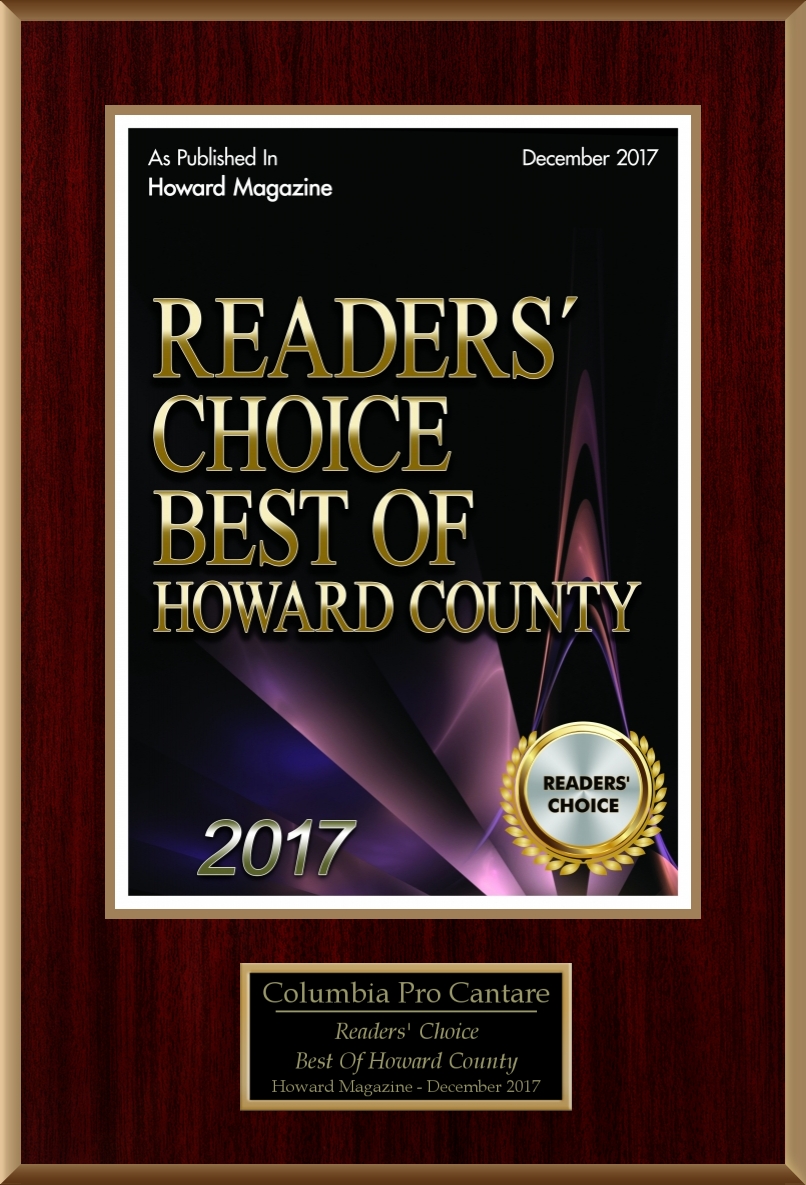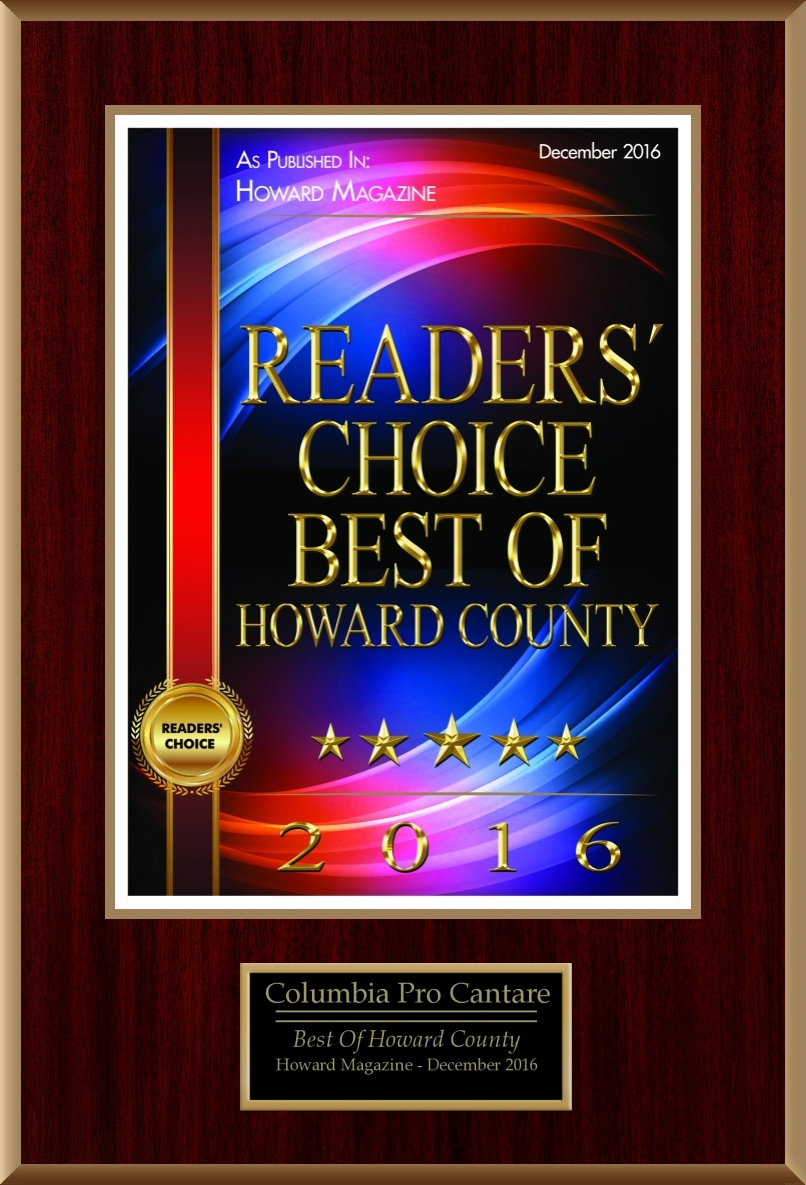 Sing Into Spring
Sunday, March 18, 2018 at 4 pm
First Evangelical Lutheran Church Ellicott City, MD

Over There: Music of World War I
Saturday, May 5, 2018 at 8 PM
Jim Rouse Theatre, Columbia, MD

SNEAK PEAK
2018-2019 SEASON
SAVE THE DATE!
"Bach to Baroque"
Saturday, October 20, 2018 at 8 PM
Jim Rouse Theatre, Columbia, MD
Handel: Messiah
Sunday, Dec. 2, 2018 at 7:30 PM
Jim Rouse Theatre, Columbia, MD
A Christmas Noël
with the CPC Chamber Singers
Sunday, Dec. 9, 2018 at 7 PM
Christ Episcopal Church
Columbia, MD
Anniversaries – Clara Schumann, Lili Boulanger
Also on the program: Fanny Mendelssohn-Hensel
Sunday, March 17, 2019 at 4 pm
First Evangelical Lutheran Church Ellicott City, MD

"Salute to Gershwin"
Saturday, May 4, 2019 at 8 PM
Jim Rouse Theatre, Columbia, MD

---
For free Senior Events Shuttle,
call 410-715-3087
---
Columbia Pro Cantare
5404 Iron Pen Place
Columbia, MD 21044
410.730.8549
Fax: 410.730.8634
The Columbia Pro Cantare Chamber Singers

The Columbia Pro Cantare Chamber Singers, a group of 28 singers from the Columbia Pro Cantare Chorus, were selected for their musicianship and the vocal blend necessary for a capella singing and performing smaller scale choral works. Since 1995 the Columbia Pro Cantare Chamber Singers have presented concerts in Maryland at Strathmore Hall, The Dickens Festival in Easton, Zion United Methodist Church of Cambridge, the Evangelical Arts series in Frederick, as well as many cameo performances in and around Columbia. Their annual Christmas Noël performance at Christ Episcopal Church in Columbia has become a seasonal treat.
In October, 1997, the Chamber Singers performed at Bradley Hills Presbyterian Church, celebrating the Czechoslovak Independence Day under the auspices of the Czech Embassy, and premiered in America three works of Czech Baroque composers. To date they have toured Europe three times, giving concerts to enthusiastic audiences in the Czech Republic (1997 and 1999), and Poland and Britain (2001). Based on their reputation as a premier regional choral group specializing in Czech music, the Chamber Singers were invited to perform for Czech President Václav Havel in September 2002 at a World Bank ceremony in Washington D.C. that commemorated Tomas Garrigue Masaryk, founder and first President of the Republic of Czechoslovakia.
What the Critics Say
"...the Chamber Singers gave an extraordinary account of Clement Janequin's Song of the Birds, one of the most difficult Renaissance madrigals to sing. Unfazed by old French, high pitches, polyphony and the sheer length of the thing, the singers had the starlings, thrushes, robins, nightingales and cuckoos of the text chirping away with utter abandon. Bravo!" - The Sun