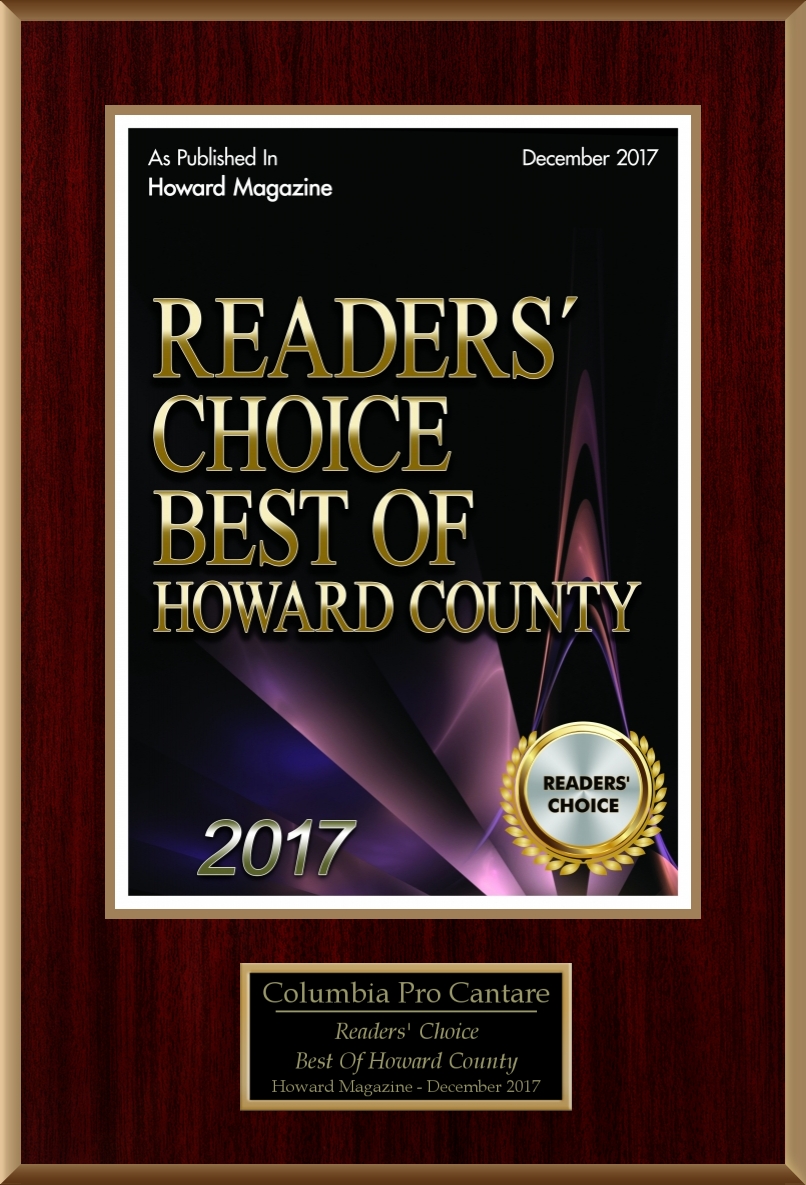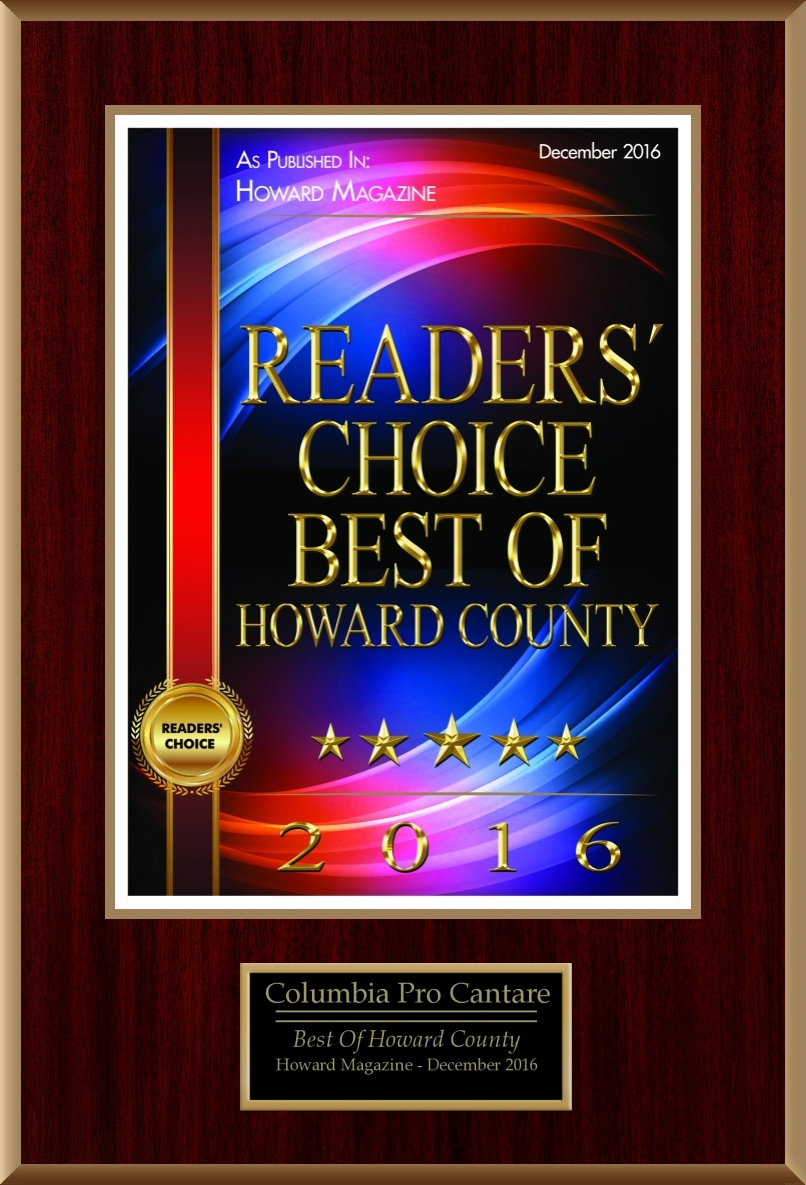 Sing Into Spring
Sunday, March 18, 2018 at 4 pm
First Evangelical Lutheran Church Ellicott City, MD

Over There: Music of World War I
Saturday, May 5, 2018 at 8 PM
Jim Rouse Theatre, Columbia, MD

SNEAK PEAK
2018-2019 SEASON
SAVE THE DATE!
"Bach to Baroque"
Saturday, October 20, 2018 at 8 PM
Jim Rouse Theatre, Columbia, MD
Handel: Messiah
Sunday, Dec. 2, 2018 at 7:30 PM
Jim Rouse Theatre, Columbia, MD
A Christmas Noël
with the CPC Chamber Singers
Sunday, Dec. 9, 2018 at 7 PM
Christ Episcopal Church
Columbia, MD
Anniversaries – Clara Schumann, Lili Boulanger
Also on the program: Fanny Mendelssohn-Hensel
Sunday, March 17, 2019 at 4 pm
First Evangelical Lutheran Church Ellicott City, MD

"Salute to Gershwin"
Saturday, May 4, 2019 at 8 PM
Jim Rouse Theatre, Columbia, MD

---
For free Senior Events Shuttle,
call 410-715-3087
---
Columbia Pro Cantare
5404 Iron Pen Place
Columbia, MD 21044
410.730.8549
Fax: 410.730.8634
Columbia Pro Cantare
Press Reviews
My last stop was for an off-beat program by the combined choruses of Columbia Pro Cantare and Church of the Redeemer, where the concert was held.
Janacek's setting of "Our Father" is filled with fascinating touches, melodic and instrumental (organ and harp provide the accompaniment). It's more than a prayer; it's a mini-drama, enriched by the composer's trademark harmonic spice and rhythmic pulse. Frances Motyca Dawson drew a generally polished, sensitive performance from her forces, singing in Czech. For the most part, Devin Mercer handled the demanding tenor solo sturdily. Harpist Iraida Poberezhnaya and organist Henry Lowe were valuable assets.
Dvorak's Mass in D, Op. 86, is a very attractive work, with many eloquent melodies (and a few overused chord progressions at coda time). Dawson did an admirable job emphasizing the lyricism in the original, organ-accompanied score; Lowe provided that accompaniment expertly. The chorus again demonstrated a good deal of technical smoothness and expressive elegance.
The solo quartet did very class work — soprano Emily Noel, alto Monica Reinagel and, no worse the wear from Beethoven's Ninth the night before, Davenport and Cantrell. Tim Smith, Baltimore Sun's Music Critic, in his blog http://weblogs.baltimoresun.com/entertainment/classicalmusic/.
It was a special joy to hear Brahms and Dvořák on the Jim Rouse Theatre stage Saturday night – ...there was light, gentle crooning from the tenors in the closing Selig sind die Toten.... How lovely is thy dwelling place couldn't have been lovelier..., and a bright, perky So seid nun geduldig disrupted the ominous intensity of Denn alles fleisch... in just the manner Brahms intended. Baltimore Sun – November 4, 2004
Conductor Frances Motyca Dawson...brought...the full weight of the chorus and orchestra into the music – The Columbia Pro Cantare singers, with the MusicCrafters Orchestra, have managed once again to breathe new life into a major neglected choral work. The performance of the Requiem featured disciplined choral work, shining solos and lustrous orchestral textures. Washington Post – October 15, 1986
The Columbia Pro Cantare, headquartered deep in the Maryland suburbs... always brings something special – The Chorus was beautifully trained, with well-balanced tone and precise diction that managed to keep its clarity in the church's fine but resonant acoustics. Washington Post – September 16, 1988
Enthusiasm is...one of the hallmarks of the Cantare's conductor, Frances Motyca Dawson – The Cantare sound is impressive, with a wide tonal and expressive range, good diction and, most important, passionate devotion to the music which it performs. Columbia Flyer – March 26, 1992
Verdi's...counterpoint...rang out with power and joy – The stars of the evening were Motyca Dawson and her singers. Their diction was superb...intensely chromatic harmonies were handled with aplomb...one of the elite choirs in Maryland is right here in your back yard. Baltimore Sun – October, 1999
...Absolutely beautiful... – The lines of chant on which Durufle crafts the structure of his Mass were sung clearly and freely. The "Christe Eleison," one of the most sumptuous choral passages ever composed, sounded absolutely beautiful, and there was an appealing sense of lift to the Sanctus that can easily remain earthbound in less supple hands. Baltimore Sun
Mendelssohn's 'Elijah' is gloriously rendered – Kudos to the tenors for delivering "And the rivers are exhausted" with a pathos that conveyed the desperation of the famine–stricken Israelite nation. At "Cast thy burden," the choir was angelic to a fault, and Mendelssohn's counterpoint rang out with wonderful authority in "Behold, God the Lord Passed By." Baltimore Sun for Howard County – October 25, 2001
"The Great American Songbook" – The whole night was to quote Mr. Porter, "Delightful, Delicious, De-Lovely." The singing was impressive. The musicians, including the pianist, Ms. Gatwood, the jazz combo, and the Lexington Brass Quintet enhanced the singers and were terrific in their own right on their featured pieces. Like Ira Gershwin wrote, "Who Could Ask for Anything More?" Susan Brall, DC Metro Theatre Arts – May 3, 2015