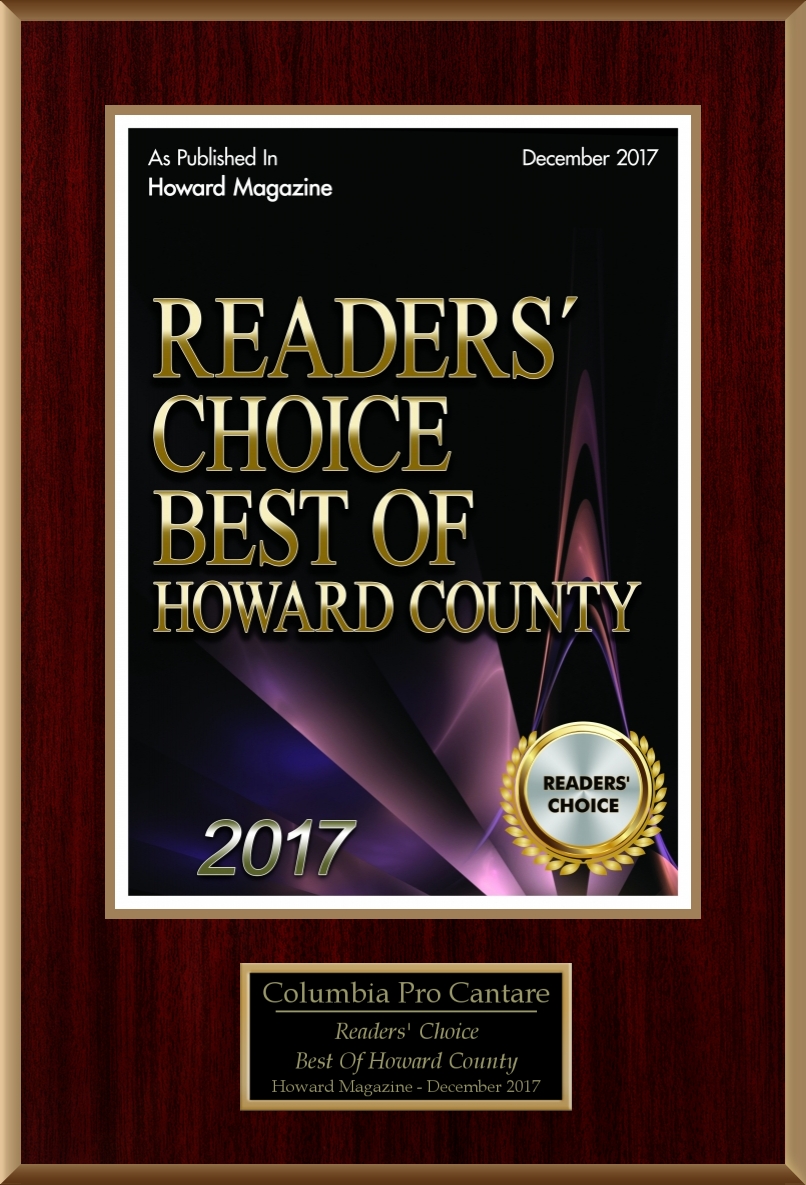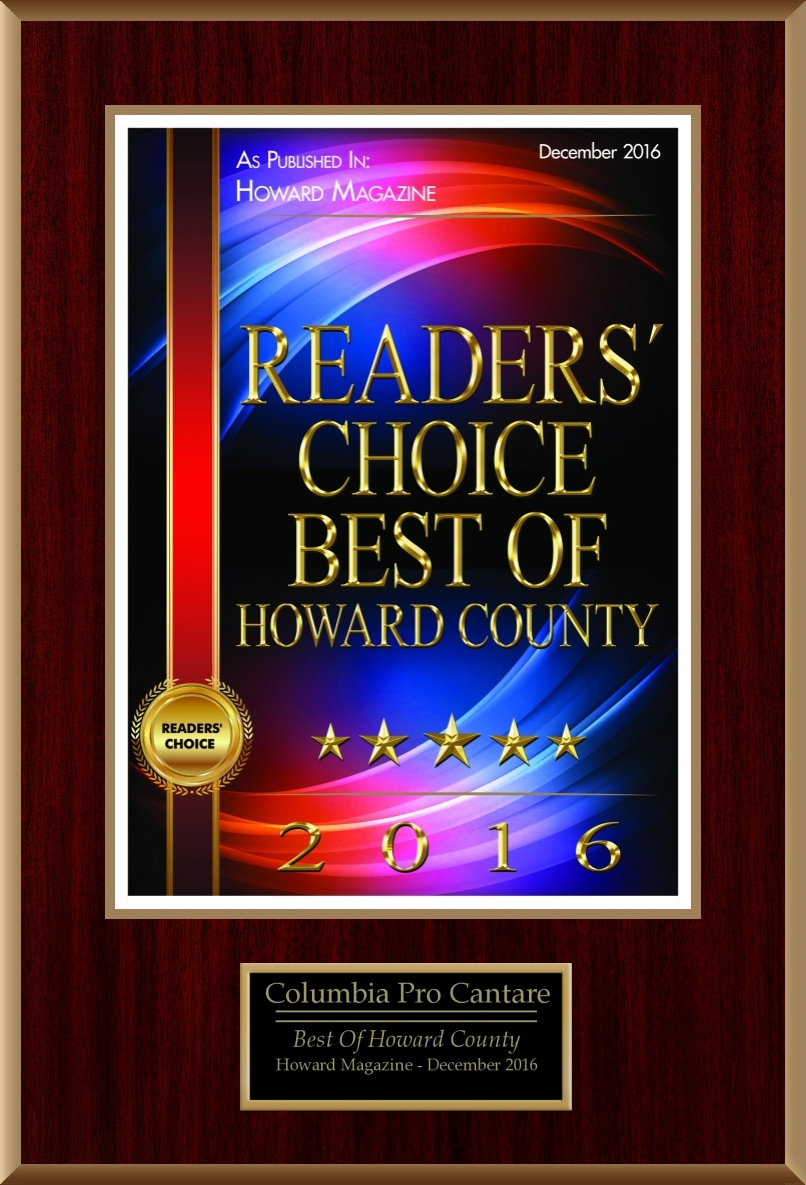 Over There: Music of World War I
Saturday, May 5, 2018 at 8 PM
Jim Rouse Theatre, Columbia, MD

SNEAK PEAK
2018-2019 SEASON
SAVE THE DATE!
"Bach to Baroque"
Saturday, October 20, 2018 at 8 PM
Jim Rouse Theatre, Columbia, MD
Handel: Messiah
Sunday, Dec. 2, 2018 at 7:30 PM
Jim Rouse Theatre, Columbia, MD
A Christmas Noël
with the CPC Chamber Singers
Sunday, Dec. 9, 2018 at 7 PM
Christ Episcopal Church
Columbia, MD
Anniversaries – Clara Schumann, Lili Boulanger
Also on the program: Fanny Mendelssohn-Hensel
Sunday, March 17, 2019 at 4 pm
First Evangelical Lutheran Church Ellicott City, MD

"Salute to Gershwin"
Saturday, May 4, 2019 at 8 PM
Jim Rouse Theatre, Columbia, MD

Columbia Pro Cantare
5404 Iron Pen Place
Columbia, MD 21044
410.730.8549
Fax: 410.730.8634
Thanks to our supporters for voting us one of the Best in Howard County again this year!
OVER THERE: MUSIC OF WORLD WAR I
SATURDAY, MAY 5, 2018 8 PM
Pre-Concert Lecture 7 PM, Post Concert Reception
The concert honors the initial exuberance and the immediate afterthoughts of America's entrance into the "War to end all Wars." From George M. Cohan's "You're a Grand Old Flag" and "Over There" and Britain's "It's a Long Way to Tipperary," and "Pack Up Your Troubles in Your Old Kit Bag," to Maurice Ravel's "Le Tombeau de Couperin" and George Butterworth's "Songs from a Shropshire Lad," you'll find thoughts of war and peace.

Columbia Pro Cantare; Rob McGinness, baritone; Sammy Marshall and Erik Apland, pianos
The Lexington Brass Quintet

Jim Rouse Theatre
5460 Trumpeter Rd.
Columbia, MD 21044
To order online, click on our Ticket Order page, scroll down to the buttons, and find the Over There tickets. We have military veterans discounted tickets for this concert, also. Clicking on Add to Cart will take you to the PayPal page, where you can pay with Visa, MasterCard, Discover, or your PayPal account. We will email you verification that we have received your order.
CPC is honored to present our distinguished candidates for this year's
Battle for Frances' Baton!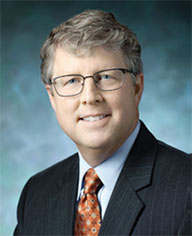 Steven Snelgrove, president of Howard County General Hospital
Bio: Steven C. Snelgrove became the president of Howard County General Hospital in 2014, and is responsible for the overall operation and direction of the hospital. He is a forward-looking leader with more than three decades of health care management experience in both academic and community hospital settings. Steve is focused on creating a delightful patient experience and making HCGH the best place to work and receive care in the nation, fulfilling the promise of health in Howard County.
Why you should vote for me: As a health care professional, I know that we need to treat the whole person, body and mind. I also know that we need to focus on wellness outside of our hospital. There is no doubt that beautiful music, like that created by the Columbia Pro Cantare, can contribute to our overall well-being. In short, this elite choir is good for you!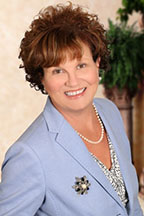 Suzi Padgett, Vice President and Branch Manager, Long and Foster Real Estate Columbia office and president of the Celebration of the Arts
Bio: Suzi leads Long and Foster Real Estate's Award Winning Columbia Office as Vice President and Branch Manager and has the honor of serving as President of The Columbia Festival of the Arts. With a passion for all things Music and Art Suzi believes strongly in bringing people together through these kinds of shared experiences.
Because her Dad was a WWII Naval Officer, this evening's program is especially meaningful to Suzi. In an unusual connection to the final piece, her Dad had the opportunity to work with its composer, George M. Cohan, for a play he wrote while studying at The Catholic University of America.
Why vote for me...Suzi Padgett? Allowing me to conduct helps me to cross off an important item on my "Bucket List" and reduces the risk of anyone in the Theater hearing me sing....
Seriously though, this nationally recognized organization provides a link to many types of music and brings it to our community while allowing local folks to share their talents through melody and harmony.
Remember that EVERY vote counts for Columbia Pro Cantare!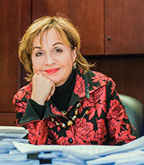 Mary Ann Scully, president of Howard Bank
Bio: Lifelong banker and founding CEO of Howard Bank - now Greater Baltimore's largest locally headquartered bank. Passionately involved over the years as a volunteer leader on numerous local not for profit boards . Recently announced a philanthropic focus on workforce development and providing access to the arts. Oldest daughter of WWII vet who told both of his daughters they could be anything they wanted to be - and they took him seriously - but has not in fact ever done this so one more thing she wants to be.
Mary Ann Scully believes she is qualified to conduct the chorus and deserves your vote because she is a lover of classical music who has unfortunately stopped and started piano lessons three times in her life, once as an adult, so she should perhaps revert to conducting. And, she actually listens to Glenn Miller recordings and loves a Benny Goodman classical clarinet selection.
To vote for one, two, or all three of these worthy candidates, follow the link below to cast your votes using your PayPal account, Visa, MasterCard or Discover.
The contest winner will conduct the chorus in a special piece at the end of the May 5, 2018 concert.